Disneyland stroller rental— if you need to rent a stroller at Disneyland or are thinking of bringing your own, this Disneyland Stroller Guide is for you.
Using a stroller at Disneyland is pretty much a must when you have little ones. The age cut-off for stroller usage at Disneyland is typically higher than your every day stroller use.
Let's talk all about strollers whether you're renting one or bringing one from home.
How Much are Disneyland Stroller Rentals?
Disneyland stroller rentals are $18 per day for one stroller and $36 per day for a double stroller. You can also rent strollers and other baby equipment from my partners at Cloud of Goods.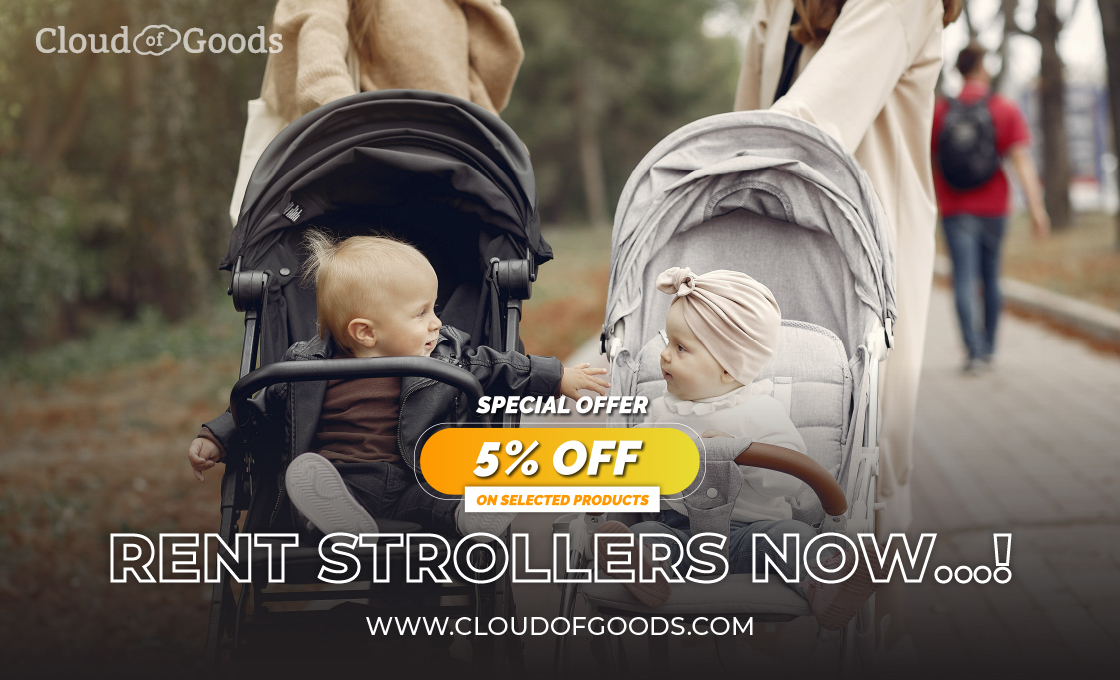 If you go the Disney-stroller route, note that single strollers hold up to 65 lbs. and double will hold max 50 lbs. in one seat and 50 lbs. max in the second seat.
Can I Take My Own Stroller to Disneyland?
Yes, personal strollers no larger than 31″ (79cm) wide and 52″ (132cm) long are permitted at Disneyland Resort.
Strollers are not allowed on escalators and children must be removed from the stroller when riding the parking lot tram and monorail. Read more about stroller guidelines and ban on wagons here.
Are Double Strollers Allowed at Disneyland?
Yes, here is a list of double stroller models that will fit the stroller guidelines size requirements at all U.S. Disney Parks, including Disneyland Resort. Note, this is NOT a comprehensive list, just noting some popular double stroller models that fit the criteria.
Are Wagons Allowed at Disneyland?
No, any item that requires you to pull it behind you, including wagons or pull strollers are not permitted past security check points at Disneyland Resort.
Keenz Stroller wagons or any other push-style wagon are also prohibited, effective May 1, 2019.
If your child has special needs, keep reading on how you might be able to have a push wagon inside the parks.
Do I Need To Bring a Stroller to Disneyland?
Disneyland is the place everyone can act like a kid again. Even your 5, 6, or 7 year old gets that chance.
And if I see you pushing one of those older kids around in a stroller, I promise I'll just smile the smile that says, "I've been there, it's all good!"
Get discount stroller rentals here!
You will be doing a lot of walking at Disneyland. On one visit our 5 year old was able to hold her own all day and we only put her in the stroller at about 11pm on our way out the gates.
We used our Disneyland stroller rental primarily for a substitute locker, more on that in a minute.
Disneyland Stroller Basics
All strollers boarding the tram from Mickey & Friends or Pixar Pals parking must be folded. You can no longer choose the back with more space and keep your stroller open.
Special note: stroller as a wheelchair tags are available at guest services. Read more about special needs at Disneyland here.
Here are a few basic rules for strollers at the Disneyland Resort:
That BOB stroller is awesome, but theft can happen even inside the Happiest Place on Earth. Unless you plan on someone being with the stroller at all times, consider bringing a cheaper alternative.
For infants at Disneyland, something that can recline is a must.
For toddlers, an inexpensive umbrella stroller will usually do the trick.
If possible, bring a stroller with a sunshade and some type of basket.
Disneyland rents single and double strollers which has both a sunshade and basket (no tray).
Pick up your stroller rental in the Esplanade area near the main gates.
Make sure you only leave things in the stroller that you won't be heartbroken over if they disappear (think snacks, ponchos, hoodies).
Easy identification is essential; mark your stroller. There are tons of awesome stroller tags you can customize here.
You can also tie a ribbon or bandana on the handle. I bring my sarong, tie it around the handle and then use it later to save our spots for parades or extra warmth at night.
Children must be removed from strollers to ride the tram to and from the parking lots. This is tricky when you have a sleeping child late at night, so be prepared.
Disneyland stroller rentals must remain inside Disneyland, California Adventure and the Downtown Disney area.
Disneyland Stroller Parking
There are so many places you can park your stroller at Disneyland during your visit. You don't even need to move it every time. I like to park it in one place and return to it when I need it. Most people only move their stroller when moving to another land/area inside the parks.
Here are a few helpful hints for what to expect when using your stroller at Disneyland:
Strollers may not be brought into shows or used as a place to sit while waiting in line.
You will need to park your stroller before getting in line.
There are marked spots throughout the parks where you can park your stroller, ride a few rides and then retrieve it.
If you misplace your stroller, just ask a nearby Cast Member where it may have been relocated. They do move things around occasionally to keep pathways open. I've had it happen to me, but the Cast Members are super quick about knowing where it might be.
Disneyland Stroller Rental or Locker?
On most visits, we use our stroller primarily as a locker. When my youngest was old enough to walk the parks the entire day but not quite old enough to do without a stroller we were always prepared with our stroller as a locker system.
She only sat in the stroller as we headed out to our hotel after being at Disneyland for the entire day. We often pack a small, soft side cooler holding drinks and uncrustables that sat in our stroller seat and our stroller parking spot all day (right next to Buzz Lightyear; an easy spot to return to throughout the day).
Besides the cost, here's a few pros and cons to renting a stroller just to stash your stuff.
Pros for using a stroller as a locker:
you can bring it wherever you are in the park
you can park it at a convenient location in the park without having to go back to Main Street, Buena Vista Street or outside at the Esplanade
more space for the price, stash stuff in the seat, baskets and pockets (but keep cameras, cash, tickets and valuables on your person!)
you can use it for pushing around tired kids, too (who'd a thought?)
Cons for using a stroller as a locker:
you can't leave valuables in/on your stroller (again take all cameras, ids, money, etc with you!)
a bit more money out of pocket than current locker rental rates
can be a hassle to set up a rental
I know many people prefer bringing their own stroller into the parks and I can certainly see the perks of that option. However, since our youngest has outgrown the need for a stroller, we no longer own one.
Whenever we travel with friends rather than buying a cheap stroller for the day, we chose to rent. Renting a stroller at Disneyland is usually easy and efficient.